Just an update on my personal fitness endeavors. I am trying to be in the single digits of clothing sizes by the end of the summer (convieniently around our
photoshoot
date) ...
lol
... Last week I posted that I was giving up my scale for a month. It was driving me
cAHrazy
! And, I've held up to it. As a replacement, I set some fitness goals instead, that I'd like to accomplish before April 15
th
. They were:
To cover 70 miles.
To complete a 60 minute adv. spinning class (I usually only make it to 20-30

mins

)
To increase my resistance weights to 15%, respectively.
As of current I have covered
22.6
miles! We've experienced some beautiful weather here, and I've subbed
alot
of my gym days for some
outdoorsiness
. This was
conquered
by a combination of walking, jogging, and a few (I think 2.3m to be exact in, in full run - I'm a rookie ;P).
The spinning classes are on a first come first serve basis, at both of my gyms. You'd think people were auditioning for American Idol, seeing the line for people trying to make the 5pm class. I didn't feel like fighting for bikes last week, so tomorrow I'm just going to leave my office early and head to the one down the street ... instead of driving out towards my house to catch the spin experience. I'm going to go though! I promise!
My trainer is trying to instill in me the significance of weight resistance,
strength
, and ultimately weight loss. It does wonders for plateaus, but I don't wanna look like a body builder ... lol! I start free weights next week, but for now I stick to the machines. I was doing 65lbs on legs, and generally 65lbs on arms. Kind of soft-bodied but my trainer doesn't want to overdo it (he
thinks
I'm always weak from the MS) ... but I just have to keep showing him that I'm capable ... and I'll be okay. Love you
Terk
! So, by April I hope to comfortably increase to 9-10lbs. The machines I frequent currently are:
The Leg Press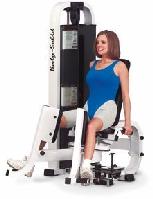 Vertical Press
~PC