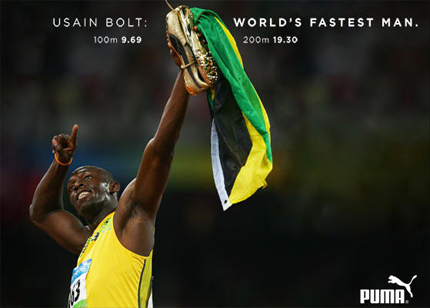 A-
BUYAKA
to all the runners, joggers, and tennis players out there!!! ...
lol
... I think these are HOT! Especially for a retail of only $75.00.
Usain
"Lightening"
Bolt
... the world's fastest man on record (recently proved at the 2008 Olympics with 3 Gold Medals/3 New Records) has partnered with PUMA to market a new shoe.
I didn't see any models of the famous gold ones in inventory ... but the color variations are quite neat. I'm eyeing the black & pink ... and green & greys ... Appropriate shoes are significant (whether running or walking) ... as superior
comfort
aids in a safe and more
efficient
workout!
~PC
"Lightweight. Low Profile. Ergonomic. The L.I.F.T. Racer brings innovation to the running range with a unique design that epitomizes lightweight running. The midsole is constructed by utilizing a two color EVA injection process, combined with an innovative design that allows the EVA to wrap around the entire upper, giving the L.I.F.T. Racer its most important features- lighter weight." PumaOnline.com