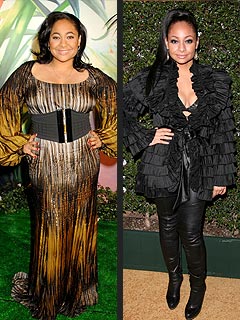 Raven-Symoné, the 25yo actress, singer, comedienne and producer (the list seriously goes on) who stole America's hearts as Olivia on The Cosby Show, has never been one to muffle her self-confidence. This came despite facing scrutiny over the years for her curves, in an industry where plus-size was seen as a "bad example" to the tweens and under, she appealed to.
After being off of the scene since the conclusion of her hit show, That's So Raven, she made a draw-dropping appearance at list night's People's Choice Awards, in an #AllBlackMostlyLeatherEverything 'fit. But that wasn't the story, it was that she was considerably slimmer. Apparently, the young mogul has undergone some pretty compelling weight loss, which she attributes primarily to less stress and stress-induced eating:
"That's what stress does to you," Symoné says. "I've been not stressing. I've been in my own house, decorating and finding hobbies."
Raven also spoke with PEOPLE Magazine in its latest issue about her changes and feelings on how differently she's treated:
"I thought I looked fabulous before and nobody else did. So, whatever... Actually, now I wear bigger clothes because I don't like the way people stare at me," she says. "I liked it before. Now, you're just looking at me for the wrong reasons. Before, you were actually looking at me for a real reason."
It may be shocking, but I've come across so many "afters" who want to be seen as no different. Praise, recognition and acknowledgement aren't desired. However, when the focus of much of society is fitting an ideal physical mode and someone in the public eye (heck, or even at your office) achieves it, they're immediately seen in a different light.
Raven has always been a beautiful powerhouse to me, with amazing talent. I truly hope she finds peace with her new figure, or whatever figure she's most comfortable in. I also hope that one day, more realize how great people like her and even WE are, before a single pound is ever shed.
~PC